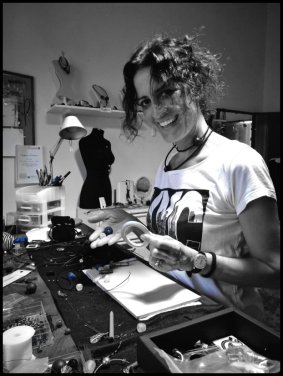 I Lalla's sono oggetti ornamentali da indossare 24 ore.
Gioielli eco-friendly dal design innovativo fatti in Toscana a mano per il mondo.
I materiali usati sono ricercati con attenzione, variando da collezione a collezione: alluminio, vetro di Murano, ebano, osso, semi, pietre dure, vetro reciclato, gomma, legno, argento, piume, feltro. Spesso rilavorati e sviluppati insieme agli artigiani italiani che collaborano con il brand. L'unica costante e' niente plastica neanche reciclata.
Non sono "semplici" gioielli ma ornamenti per il corpo fatti di Luce, Aria, Pianeti, Terra, Metallica e Spazio che variano in sfumature, materiali o forme.
I Lalla's si scelgono a seconda dello stato d'animo.
Pensati per chi un giorno si sente urban e quello dopo jungle.
Per chi non si sveglia sempre con lo stesso umore e si veste secondo come si sveglia.
Per chi e' libero di scegliere lontano dalle imposizioni esterne della moda restando se stesso. Per chi e' sensibile verso la circolarita' dei materiali cosciente di scegliere cio' che puo' riciclare. Lalla's e' per chi vuole un gioiello moderno ecosostenibile che fa la differenza trasformando un outfit banale in uno speciale.
Per chi, questa differenza, la vuole fare tutti i giorni restando se' stesso.
Sii vero, sii te stesso Be You Be True (B.U.B.True).
SEGUI LALLASDESIGN su INSTAGRAM :-)

Lalla's creations are 24hrs jewelry unique pieces.
Ecofriendly jewels with an innovative design made in Tuscany, central Italy.
The materials used are carefully researched : aluminum, Murano glass, ebony, bone, seeds, hard stones, recycled glass, rubber, wood, silver, feathers, felt. Materials often developed by the brand with the best Italian artisans around. There is no use of plastic, even the recycled one. They are not "simple" jewels but ornaments for the body made of Light, Air, Planets, Earth, Metallic and Space which vary in shades, materials or shapes. Wearable at all times of the day, Lalla's jewels are chosen according to the mood. Designed for those who one day feel urban and the one after jungle. For those who don't always wake up with the same mood and dress accordingly. For those who are free to choose, far from the external impositions of fashion remaining themselves. For those who are sensitive to the circularity of materials, who consciously choose what they can recycle and re-use. Lalla's is for those who want a modern eco-sustainable jewel that makes the difference by transforming a normal outfit into a special one.

For those who want to make this difference every day not giving up their real being. Be You Be True (BUBTrue).
for info or bespoke : call me or email me !
lallasbox@gmail.com 0r 339.5229798